BATON ROUGE, La. – The 2023 Legislative Session ended yesterday, marking a significant milestone in advancing higher education in the state of Louisiana.  Under the steadfast leadership of Governor John Bel Edwards and the tireless efforts of Louisiana's legislators, higher education has received an unprecedented level of funding designed to support the education and training of our students.
"We are grateful that once again the Governor and Legislature have made a historic investment in talent development in Louisiana.  The over $180 million increase in higher education funding will support students, retain faculty, advance research, increase campus safety and improve the workforce readiness of our citizens," said Dr. Kim Hunter Reed, Commissioner of Higher Education. "Critical funding has also been provided to improve college affordability and enhance campus infrastructure as we focus on providing the best learning environment possible for our students to learn, grow and graduate. We know that budgets reflect priorities – and we are proud that this one speaks volumes about the Governor's and Legislature's shared commitment to the prosperity of our people."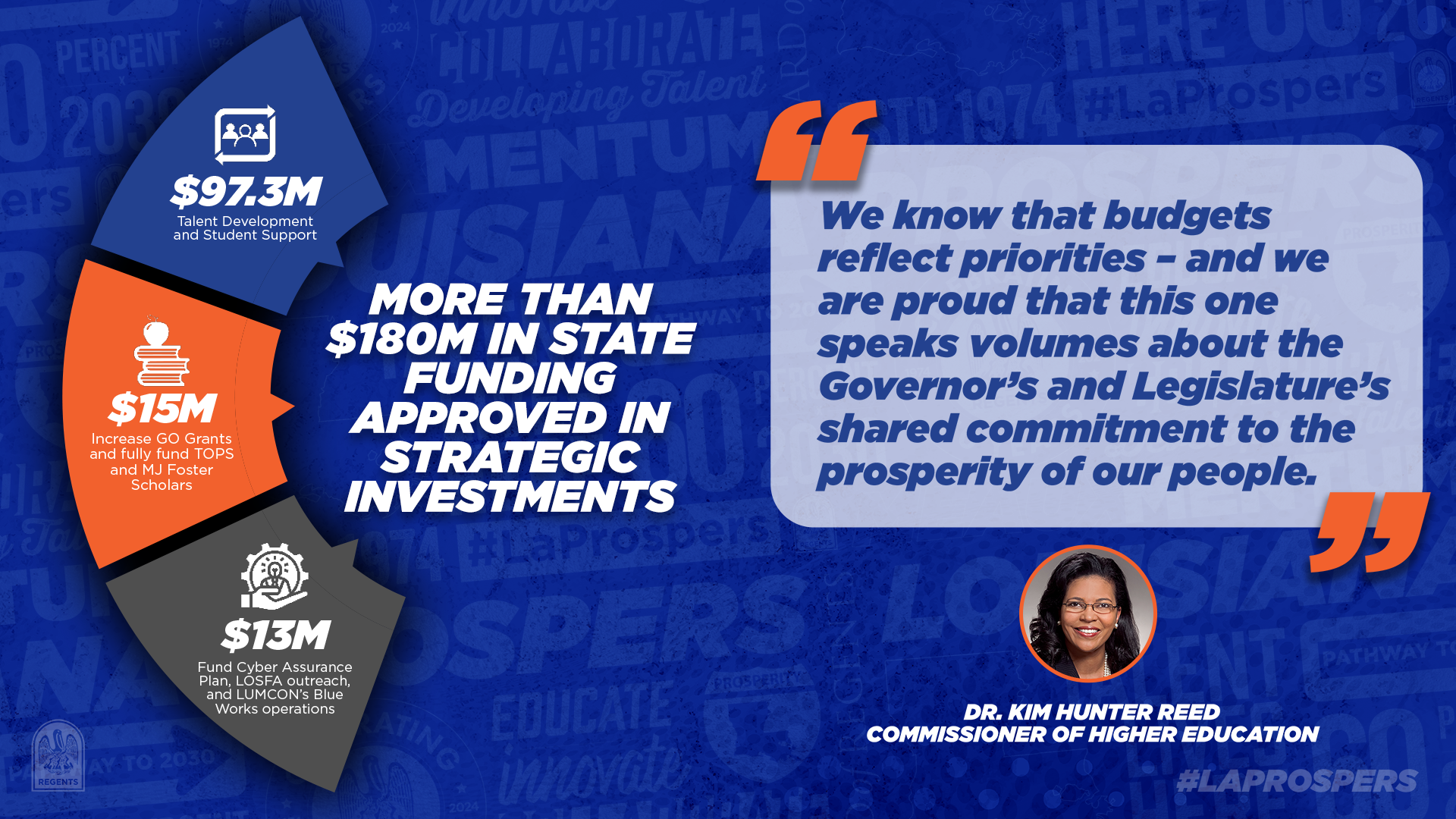 Key FY24 Budget Stats
HB1 increases State General Fund appropriations for higher education by $125.3M, a 10% increase over FY23. This appropriation level includes a $29.2M increase proposed by the Governor through the Executive Budget and legislative actions, which added $96.1M. This is one of the largest State General Fund enhancements ever received by higher education.
The budget supports the following priorities:
Talent Development and Student Support – $97.3M
Focus on Affordability – $15M to increase GO Grants (need-based aid) and fully fund TOPS and MJ Foster Scholars
Targeted Investments – $13M to fund Cyber Assurance Plan (statewide), LOSFA outreach, and LUMCON's Blue Works operations

Key FY24 Capital Outlay Stats
$492.3M – Largest capital outlay allocation to higher education made up of Priority 1, Priority 2, and Cash funding

FY24's allocation is $179.5M or 58% more than received in FY23

118 Projects or 36% increase from FY23's project count
$51.3M – $1.3M increase in deferred maintenance funding from FY23 (largest allocation since 2008)
The budget also includes $58.7M one-time dollars in both Fiscal Years 2023 and 2024 to support workforce development, deferred maintenance, institution-specific priorities, campus safety, and textbook affordability. These adjustments bring higher education to a historic total increase of $184M during this legislative session.

Quotable Quotes
"I am pleased to once again have the best budget for education in Louisiana history," said Governor John Bel Edwards. "It's amazing to see how far we've come after leading the country in disinvestment in higher education before I became governor. These are historic investments that support our students and faculty, improve our campuses and invest in research and critical workforce needs. We are setting our institutions on a course for success by giving them the tools necessary to create learning, teaching and research environments that will continue to help our students and state advance."
"When we invest in the education of our people, we invest in the prosperity of our state.  The Senate once again prioritized the state's most important needs by dedicating another historic level of funding for our state's colleges and universities.  When we all pull in the same direction, we deliver solutions that will ensure the long-term prosperity of our state," said Senate President Page Cortez.
House Speaker Clay Schexnayder added, "I am proud that the Louisiana Legislature has delivered another year of historic investments for higher education.  With more than $180 million in new dollars to advance the state's higher education Master Plan, Louisiana is opening up more opportunity for our students. From doctors to craftsmen, when we produce a well-educated, well-trained workforce, we attract business, improve quality of life, and solve many of our state's pressing problems."
#LaProspers
Contacts
Melissa Maranto, Communications Director
melissa.maranto@laregents.edu • 985-516-5121
Dr. Chris Yandle, Assistant Commissioner for Public Affairs
chris.yandle@laregents.edu • 985-373-5845
---