BATON ROUGE, La. – Four years after adopting an educational attainment goal of 60% of Louisiana's working adults holding a degree or credential of value by 2030, the Board of Regents today released its Master Plan Year Four update, which highlights the strides made since 2019 toward that audacious goal.
This year's report celebrates a historic educational attainment rate of 49.5% toward the 60% goal, an increase from last year's record 48.6%. The Master Plan also set a goal to more than double the number of credentials earned each year in Louisiana. Counting credentials of value earned at public, private and proprietary institutions revealed that more than 65,000 students earned credentials between 2022 and 2023. These increases are significant as higher education continues to rebound from the global pandemic and multiple hurricanes, which caused major disruptions in the education of college students across the state.
"After making huge strides toward our attainment goal this past year, the Pathway to 2030 is becoming brighter," said Regents Chair Collis Temple III. "This is not a Regents accomplishment, but a fully collaborative one, made possible in large part by strong higher education leadership, faculty and staff across our systems and our institutions, in tandem with the steadfast support of our Governor, legislature, K-12 partners, and stakeholders across the state."
The fourth year of Master Plan implementation focused on how to address the impacts of profound disruptions in order to reach the state's 60% goal and grow prosperity for all Louisianans. This year, the Board of Regents focused on mapping its successful Pathway to 2030, doubling down on efforts to ensure access and success for every population in the state.
Regents' approach to achieving the 2030 attainment goal is three-fold:
Widen educational pathways that enable more people to begin or resume pursuing their higher education aspirations;
Increase student success; and
Recognize and count all postsecondary education degrees and credentials of value.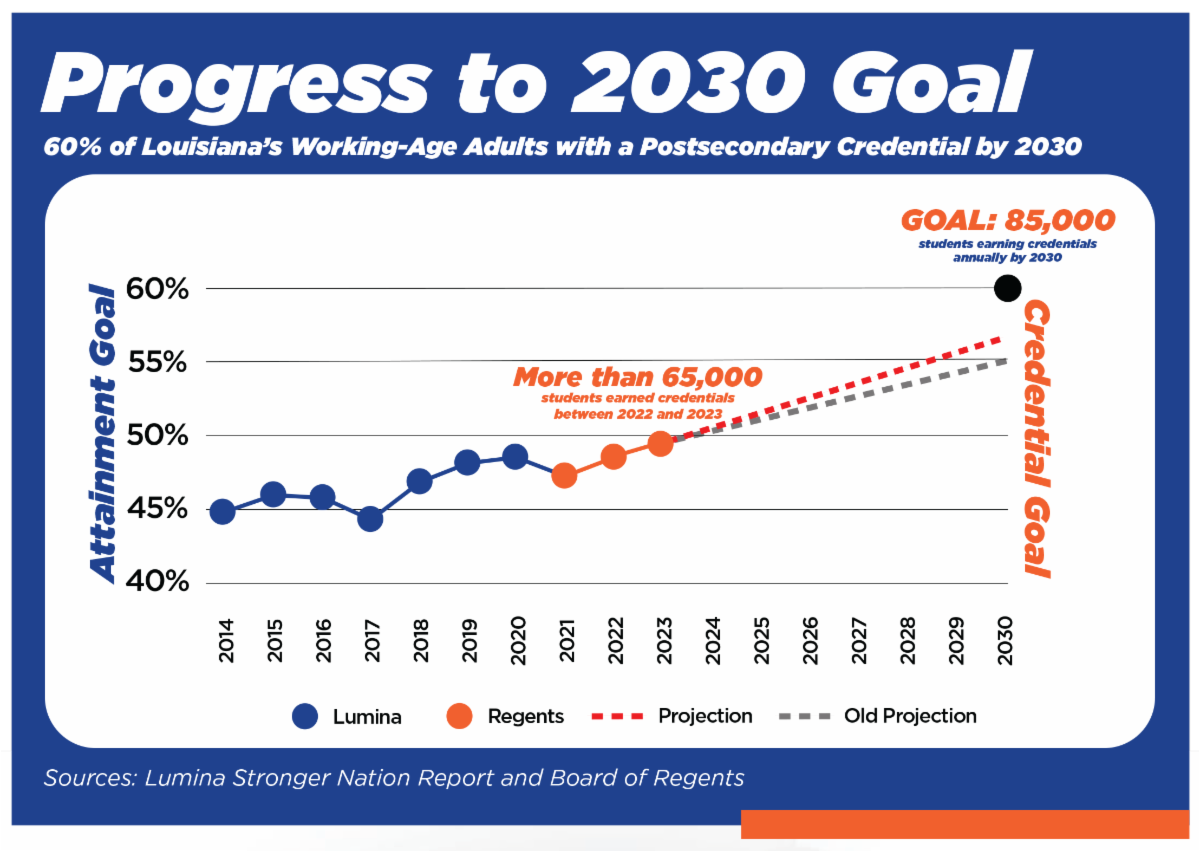 "Four years ago, we boldly declared that we intended to have at least 60% of our adults earn a postsecondary credential, and today's numbers show our collective work is making a difference for our students and our state," said Commissioner of Higher Education Dr. Kim Hunter Reed. "We're not there yet, so we must maintain momentum as we strive to increase talent development while also accelerating student learning, eliminating achievement gaps and increasing affordability here in Louisiana."Efforts to build prosperity across the state have included supporting the education and training of returning adults and expanding opportunities for more students to begin college in high school. In addition, Regents has invested in increasing student success through the adoption and promotion of Louisiana's Meauxmentum Approach, an evidenced-based framework built on successfully implemented policies and practices and the latest research from across the country.
This year, Regents will focus on further strengthening Louisiana's education-to-employment pipeline, working to reverse declines in college-going rates and enhancing student success.
In other board action today, Regents received institutions' three-year strategic academic plans, which provide lists of intended new programs at the associate level and above and approved the termination of 28 low completer programs.
2023 is the first year that the Board has carried out such a comprehensive statewide multi-year review. While this process does not replace institutional development of individual degree program proposals, it does for the first time provide Regents a full understanding of institutional interests in developing new academic programs along with an analysis of how those plans will meet workforce needs within regional labor market areas and throughout the state.
The Master Plan Year 4 report can be viewed on the Regents website at www.laregents.edu. The initial 2019 Master Plan and each year's annual report can also be viewed at www.laregents.edu/masterplan.
---