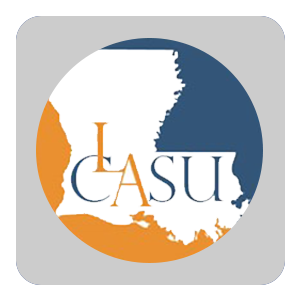 The Louisiana Center Addressing Substance Use in Collegiate Communities (LaCASU) office provides outreach and support to Louisiana's institutions of higher education to aid in reducing the negative consequences of substance use. Through the Louisiana Higher Education Coalition (LaHEC), a project funded by the Louisiana Department of Health — Office of Behavioral Health (OBH), we facilitate a statewide coalition of over 35 institutions of higher education across Louisiana, including four-year institutions, two-year institutions, community colleges, and technical community colleges.
Within LaHEC's structure, we are able to provide the following free services:
Research and Evaluation services include providing statewide assessment and evaluation of substance use rates of Louisiana's college students through the Core Alcohol and Drug survey. Additionally, we assist higher education administrators in raising awareness about healthy and helping behaviors and selecting intervention strategies that reduce negative consequences.
Professional Development training to increase evidence-based prevention programs, help in organizing campus community coalitions, and provide seminars to present information on best practices on current issues in higher education;
Technical Assistance to help establish data-tracking systems, institutional assessments of ATOD practices, and assistance in survey administration and reporting. In addition to the aforementioned, we also serve as the primary source of professional expertise in collegiate substance use prevention in Louisiana through advisory boards/councils such as the State Epidemiology Workgroup (SEW) and Prevention Systems Committee (PSC).