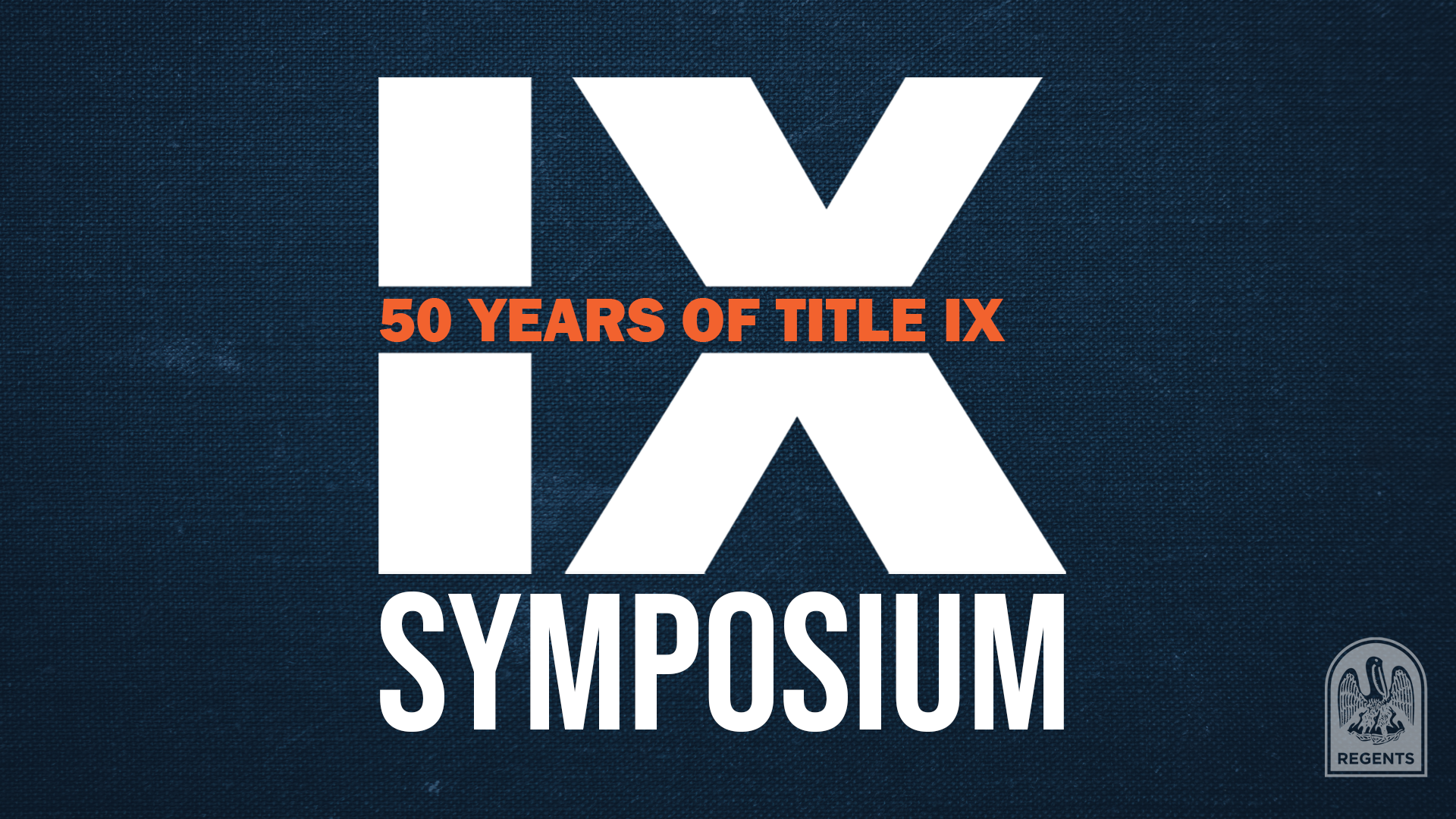 50 Years of Title IX Symposium
Tuesday, June 7, 2022 • Pennington Biomedical Research Center
Meet the Panelists, Speakers, and Award Recipients
John K. Pierre, JD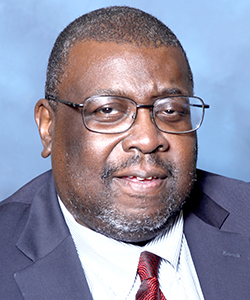 Moderator
Chancellor
Southern University Law Center
Full Bio
John K. Pierre has devoted his career to molding lawyer leaders and being a champion of innovation. He received a bachelor's degree in accounting from Southern University in 1980, a master's degree in tax accounting from Texas Tech University in 1982, and a juris doctor degree from Southern Methodist University School of Law in 1985.
After graduating from law school, from 1986 to 1990, Pierre served his country as a Judge Advocates General Corps Officer, or JAG, for the United States Army. In 1990, his next assignment led him to the classroom as he began serving as a faculty member at the Southern University Law Center, where he taught courses, such as tax law, security devices, local government law, and more. In addition, he has previous teaching experience as a visiting and adjunct professor at California State University, Southern Methodist University School of Law, Loyola University Law School, Southern University College of Business, Saint Leo's College, Webster University, Louisiana State University, and Baton Rouge Community College. Beyond the classroom, Pierre has published numerous articles on tax law, sales and contracts, real estate and commercial law, ranging from magazine features to legal journal and law review articles.
In 2006, he transitioned to a leadership role within the institution becoming the vice chancellor of institutional accountability and the evening division. Currently, he has been serving as the Law Center's chancellor since 2016. Under his tutelage, the Southern University Law Center has thrived as a global legal institution. Year after year, it is recognized for its diversity, world-class faculty, and racial justice efforts. As a progressive leader and visionary, he advocates for technology advancements, community outreach initiatives, and strategic partnerships that ensure access and opportunity are provided to all.
Beyond the education field, Pierre was involved in the Baton Rouge school desegregation case as co-counsel for the Baton Rouge Branch of the NAACP in Davis v. East Baton Rouge Parish School Board. He was also co-counsel in the landmark case of McWaters v. Fema.
Pierre fervently serves as a transformational change agent and inspiration to legal professionals and thought leaders around the globe. He has earned numerous awards for his leadership, innovative strategy, and tireless efforts within the legal and professional realm. Hampton University, the Baton Rouge Bar Association, and the Louisiana Legislative Black Caucus are just a few of the organizations that have bestowed honors upon Pierre throughout his career. Also, his alma mater, Southern Methodist University Dedman School of Law, has named him a Distinguished Alumni. Pierre has served as a contributing panelist during national discussions with the Peggy Browning Fund, Thurgood Marshall College Fund, the National Pre-Law Summit, and more.
He remains a member of numerous state and national organizations, including the Louisiana State Bar Association and the Texas Bar Association.
Tracie L. Washington, MPA, JD, MBA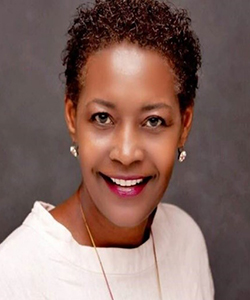 Panelist
Director of Title IX Compliance and Title IX Coordinator
Southern University Law Center
Full Bio
Tracie L. Washington is a very proud native New Orleanian, and a graduate of Carleton College, Drake University (MPA), The University of Texas School of Law, and the University of New Orleans (MBA). For over 30 years Tracie has maintained a general civil practice concentrating on civil rights, education law (traditional & charter k-12, and HigherEd), and labor/employment law. Post Hurricanes Katrina and Rita, Tracie's practice expanded to fight for the civil rights of individuals affected by these national catastrophes, with Louisiana Justice Institute (LJI), a nonprofit human rights organization and law firm. In addition to her work with LJI, Tracie is a Visiting Professor of Law at Southern University Law Center.
Post-Hurricane Katrina/Hurricane Rita, Tracie's practice has focused on protecting the civil rights of individuals affected by this national catastrophe. Tracie has been counsel in several cases involving the rights of New Orleans Katrina survivors, including: Kirk vs. City of New Orleans and Ray Nagin, litigating the rights of all New Orleans home-owners to constitutionally guaranteed notice and opportunity to be heard prior to their houses being bulldozed; Lott vs. Orleans Parish School Board, litigating the rights of returning New Orleans Public Schools students to immediate re-enrollment and admission to publicly funded Orleans Parish Schools; ACORN et al. vs. Kathleen Blanco, Governor – State of Louisiana, litigating the voting rights of New Orleans evacuees and their right to equal access to the franchise as promised by the Voting Rights Act of 1965 and the U.S. Constitution; Joshua et al. vs. City of New Orleans and Mayor Ray Nagin, a second class action case on behalf of New Orleans residents whose homes have been demolished and are slated to be demolished without prior notice and opportunity for hearing; LeBlanc et al. vs. Thomas, et al., the landmark class action suit demanding the state of Louisiana re-open Charity Hospital, the only public hospital serving the New Orleans regional area and closed after Katrina, leaving poor and mostly minority residents without access to full healthcare services; and David et al. vs. Signal International, et al., the lawsuit and accompanying campaign to end Indian-immigrant worker exploitation in Gulf Coast area shipyards.
Tracie is involved in a wide range of community activities, including the Junior League of New Orleans, Trinity Episcopal Church, and the Omicron Nu Zeta Chapter of Zeta Phi Beta sorority. She has received numerous leadership and civil rights awards and is a Fellow of the United States-Southern African Center for Leadership and Public Values at the Terry Sanford Institute of Public Policy at Duke University & Southern University (led by Ambassador James Joseph), and the Loyola University Institute of Politics Fellow. In line with her deep commitment to facilitated dispute resolution, Tracie was selected as an American Arbitration Association Higginbotham Fellow for 2011-12. In June 2016 she completed the Higher Education Leadership Foundation – Leadership Institute, as a member of the Gamma Cohort.
Tracie was awarded the Carleton College Distinguished Achievement Award at her 30th reunion, and named Trial Lawyer of the Year by the Public Justice Foundation, for her work as co-counsel in the landmark human trafficking case David vs. Signal. In addition, Tracie was named by MSNBC's TheGrio, as one of its 100 History Makers in the Making, and The Root, a daily online magazine published by Washington Post/Newsweek Interactive and edited by prominent academic Henry Louis Gates Jr., named Tracie one of its Twenty Leading Black Women Advocating Change. She was featured in Spike Lee's documentary "If God is Willing and Da Creek Don't Rise," and has been interviewed on national talk shows including MSNBC's Rachel Maddow Show and PBS NewsHour.
Tracie is the proud mother of Jacob Washington. He and his wife Chanyce – both Grinnell College graduates – are the parents of Tracie's adorable grandchildren, Aubrey Leigh and Zion Caleb. Tracie is an accomplished baker and believes all things are possible with high-fat butter. Her specialty-order bakery is NolaGoodies, Inc.
Lydia Adeosun, JD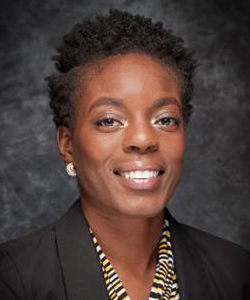 Panelist
Civil Rights & Title IX Investigator
Louisiana State University
Full Bio
Lydia Adeosun (pronounced Ahh-dey-oh-shune) is currently an Investigator within Louisiana State University's (LSU) Office of Civil Rights and Title IX.
Prior to her appointment at LSU, Adeosun served as an Assistant Director, Compliance with the Mountain West Conference (MW). Before working at the MW, Adeosun served as an NCAA Postgraduate Intern at the NCAA National Office. She also worked at the University of Arkansas-Pine Bluff as the Assistant Director of Compliance, and previously served in a similar role at Sam Houston State University.
A former student-athlete, Adeosun was a co-captain on the Southeastern Louisiana University volleyball team as an undergrad and served on the Athletic Director Search Committee as the student-athlete representative. She concluded her collegiate volleyball career by playing one season and later serving as a graduate assistant at Alabama A&M University, winning back-to-back Southwestern Athletic Conference (SWAC) championships.
Adeosun is a graduate of the Paul M. Hebert Law Center at LSU and is licensed in the states of Louisiana and Texas. She also holds a Master's from Alabama A&M University and completed her undergraduate degree from Southeastern Louisiana University.
Adeosun is a first-generation Nigerian-American, born and raised in Houston, Texas.
Paul Thomas, SPHR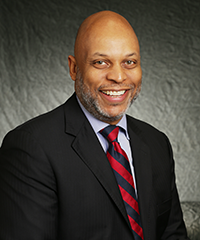 Panelist
Associate Vice President for Administration and Finance and Chief Human Resources Officer
University of Louisiana at Lafayette
Full Bio
Joining the University of Louisiana at Lafayette in June 2015, Paul Thomas serves as the Associate Vice President for Administration and Finance and Chief Human Resources Officer where he has transformed the University's transactional Human Resources department into a valued strategic partner with academics, research, administration, athletics, and external affairs. Mr. Thomas is a member of the University's executive council.
As a seasoned human resource professional, Mr. Thomas provides consultative and executive coaching to the executive team is an active contributor to strategic initiatives undertaken by the University, and leads the University's equal opportunity compliance activities including Affirmative Action, Title VI, and Title IX compliance.
Mr. Thomas supports the Vice President for Administration and Finance in leading the departments within the Administration and Finance division and manages Human Resource operations including HRIS (Human Resource Information System), benefits administration, employee relations, organization and talent development, faculty and staff recruitment, and succession management.
Mr. Thomas has nearly 30 years experience developing and leading human resource organizations. He has served on local and national HR (Human Resources) professional organization boards and committees.
Annette M. Arboneaux, MJ-LEL, MBA, SHRM-SCP, SPHR

Panelist
Chief Human Resources Officer & Title IX Coordinator/EEO Coordinator
Baton Rouge Community College
Full Bio
Annette Arboneaux has over 20 years of Human Resources generalist experience that includes the development of HR processes and policies, compliance, compensation, benefits, employee relations, performance management, and training. She has experience in various industries including retail and health care and has spent the last 11 years of her HR career in higher education.
Annette is currently employed as the Chief Human Resources Officer at Baton Rouge Community College and additionally serves as the College's Title IX Coordinator and EEO Coordinator. Prior to her current role, she served as Assistant Director of Compensation and Benefits at LSU Health Sciences Center in New Orleans and Director of Human Resources at Nicholls State University in Thibodaux, LA, where she was also Deputy Title IX Coordinator in addition to her HR-related duties.
Annette graduated from LSU–Baton Rouge with a bachelor's degree in business administration as well as an MBA with distinction from Nicholls State University. Most recently, in Spring 2019, she obtained a Master of Jurisprudence in Labor & Employment Law (MJ-LEL) degree from Tulane Law School.
Lastly, Annette is a Senior Certified Professional through the Society for Human Resources Management (SHRM-SCP) and a Senior Professional in Human Resources (SPHR) through the Human Resources Certification Institute (HRCI). She is a member of the National Society for Human Resource Management (SHRM) and the local chapter, Greater Baton Rouge Society for Human Resources Management (GBRSHRM) where she serves on the Workforce Readiness Committee
D-D Breaux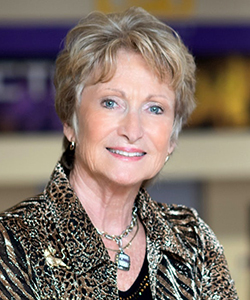 Moderator
Retired Gymnastics Coach
Louisiana State University
Full Bio
For 43 seasons D-D Breaux led LSU gymnastics to one of the top programs in the nation. The longest-tenured coach in the history of the Southeastern Conference, Breaux has represented LSU at the highest level in competition and in the community. During her tenure, the Donaldsonville, Louisiana native maintained LSU's reputation as one of the premier programs in the country with more than 800 wins under her leadership. The Tigers placed among the top-10 teams nationally 31 times in 43 seasons with program-best second-place finishes in 2016, 2017, and 2019, third in 2014, fourth in 1988 and 2018, fifth in 2008 and 2013, and sixth on four separate occasions. D-D continues to live in Baton Rouge and works with Tiger Athletic Foundation and LSU Athletics as an ambassador for the program. When she is not cheering on every LSU sport, you can find Breaux hanging out with her grandkids.
Yahzmen Abraham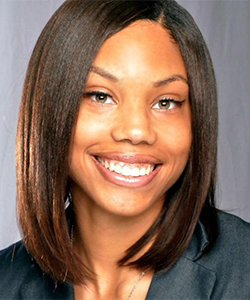 Panelist
Juris Doctor Candidate, 2024
Southern University Law Center
Full Bio
Yahzmen Abraham is from Tulsa, Oklahoma, and received her Bachelor of Business Administration in Management and Marketing from Pittsburg State University in Pittsburg, Kansas. Continually, she received a Master of Science in Sport Management from Jacksonville University in Jacksonville, Florida. Abraham is currently a rising 2L at Southern University Law Center. Her future career goals and aspirations are to become a Sports and Entertainment Agent along with work in Intellectual Property. Yahzmen is a big advocate for women in sports!
Brianna Golden, Esq.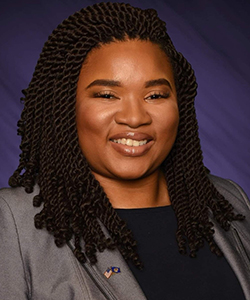 Panelist
Policy Advisor for Strategic Planning and Student Success
Louisiana Board of Regents
Full Bio
Brianna Golden, Esq., is currently a Policy Advisor for Strategic Planning and Student Success at the Louisiana Board of Regents. Previously, Brianna served as a judicial law clerk for a federal magistrate judge in the Southern District of Texas. Prior to her clerkship, Brianna served dual roles as Associate General Counsel and Policy Advisor with Legal and External Affairs (as one of the chief architects of the BOR Uniform Policy on Power-Based Violence) and as a Program Manager for the Louisiana Center Addressing Substance Use in Collegiate Communities (LaCASU) housed at the Louisiana Board of Regents.
Brianna is a 2020 graduate of Southern University Law Center and a graduate of Southeastern Louisiana University. While at Southeastern, Brianna was a member of the women's track and field team where she threw the discus, hammer, shot put, and weight. During her 2014 indoor season, she came in second in the weight throw (59-31.75) at the 2014 Southland Conference Indoor Championships, earning her second-team All-Southland Conference honors.
Ashleigh Clare-Kearney Thigpen, Esq.
Panelist
Associate Athletics Director for Diversity, Equity, and Inclusion
Louisiana State University
Full Bio
Ashley Clare-Kearny Thigpen, a two-time NCAA Champion and volunteer coach for the LSU Gymnastics team, serves as LSU's Associate Athletic Director for Diversity, Equity, and Inclusion. Thigpen also assists in the tracking of compliance of all trainings with special efforts in compliance with Title IX and sexual assault education and training.
One of LSU's most accomplished student-athletes, Thigpen earned her bachelor's degree in 2008 and master's degree in 2010. She went on to earn her Juris Doctor from the Southern University Law Center in 2013. She previously worked for five years as an attorney for the Louisiana House of Representatives. In addition to her work with the state, Thigpen has also served as an adjunct professor at Southern University. Since 2013, Thigpen has worked in private practice in the areas of family law, contracts, personal injury, and employment discrimination.
While a student-athlete, Thigpen demonstrated excellence and leadership in competition and in the classroom. She was the 2009 NCAA vault and floor champion, LSU's first two-time champion. As a junior in 2008, Thigpen became the second LSU gymnast to be crowned the SEC all-around Champion, and she also took home 2008 SEC Gymnast of the Year honors.
Thigpen holds the school record for the most individual titles – winning 114 titles in her career, including 37 on vault, 27 on floor, and 22 in the all-around. She was also recognized as a Scholastic All-American in both 2008 and 2009, and the Manchester, Connecticut, native was also a two-time SEC Academic Honor Roll member.
An active member in the local community, Thigpen was twice recognized as a member of the SEC Community Service Team, and she also received the 2008 Huel D. Perkins Leadership Award at LSU. Because of her prowess in the gym, in the classroom, and in the community, Thigpen became the first LSU student-athlete to earn the distinction as an NCAA Woman of the Year Finalist in 2009.
The daughter of Craig Kearney and Diane Clare-Kearney, Ashleigh married DaJuan Thigpen in 2016 in downtown Baton Rouge. They welcomed their first son, Beckham, in July 2020.
Dr. Kedrick A. Nicholas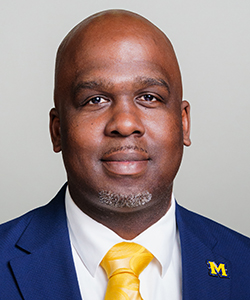 Panelist
Dean of Students and Title IX Officer
McNeese State University
Full Bio
Dr. Kedrick Nicholas is originally from New Orleans, La. He has bachelor's and master's degrees from McNeese State University and a Doctor of Education degree from the University of Louisiana at Lafayette. Dr. Nicholas has been employed at McNeese State University for 16 years. He has served in several capacities within the division of student affairs and presently serves as Dean of Students and the University's Title IX Administrator.
Dr. Nicholas has held leadership positions in multiple student affairs professional associations. He is a former President of the Louisiana Association of College and University Student Personnel Administrators (LACUSPA), a former national advisory board member for the Association for the Promotion of Campus Activities (APCA), and a former council member for the Southern Association for College Student Affairs. Dr. Nicholas has received numerous awards during his professional career. Most notably he was named National Advisor of the Year by the National Pan-Hellenic Council in 2011, National Advisor of the Year by the APCA in 2013, Mid-Management Professional of the Year by LACUSPA in 2015, and most recently a recipient of the University of Louisiana System's Innovation and Inclusion Award in 2021.
Dr. Nicholas is the chair of the University of Louisiana System's Black Male Advisory Council. He often collaborates with peer professionals across the state of Louisiana and other states within the region. Dr. Nicholas has presented at numerous conferences throughout his professional career and has conducted training and workshops at higher ed institutions in Louisiana. His research focuses on the relationship between professional development and career advancement for higher education professionals. Dr. Nicholas enjoys a blessed life with his wife Tabitha Nicholas, and his two sons, Kyle and Kamden.
Dr. Kiki Baker Barnes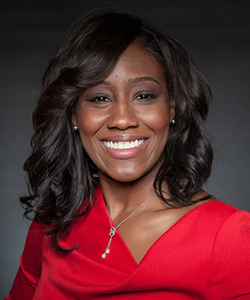 Keynote Speaker
Commissioner
Gulf Coast Athletic Conference
Full Bio
After 17 years of dedicated service, Dr. Kiki Barnes, Ph.D., director of Dillard's Department of Intercollegiate Athletics, announced her resignation from Dillard University in March 2022. Barnes is slated to become the next commissioner for the Gulf Coast Athletic Conference (GCAC), making her the first Black female commissioner in the conference's history.
Barnes was named interim athletics director and head coach of the women's basketball team in 2006, one year after Hurricane Katrina devastated the campus as well as several athletic and academic programs. The athletics department was left with only three of six sports teams needed to maintain membership within the National Association of Intercollegiate Athletics (NAIA). Restoring an entire athletics department may have been a daunting task for others, but Barnes was up for the challenge of regaining national prominence in athletics and academic excellence.
Barnes has been a trailblazer in revitalizing Dillard Athletics. She established three new sports teams; completed a redesign of Dent Hall's gymnasium; rebranded the athletics department; introduced the Dillard Bleu Devil Network for live streaming athletic events; launched a mobile application; established the first athletics endowed scholarship, the Billy Ray Hobley Scholarship; and led several fundraising initiatives that generated over $1 million for the athletics department.
As Barnes makes her exit, Dillard's line-up of sports includes men's and women's basketball, men's and women's cross country, men's and women's track and field, men's and women's tennis and volleyball with baseball starting in the fall of 2022 and softball in 2023.
Under Barnes' leadership, Dillard has enjoyed a winning tradition. The Bleu Devils earned their first national title in program history when the men's track and field 4×100 relay team won the 2021 NAIA national title. Dillard's teams have made four national championship tournament appearances, they have won nine GCAC championships and the University won the GCAC's Thomas Howell Cup for the first time. Dillard has also produced 55 NAIA All-Americans with Barnes at the helm. Barnes' coaches have won GCAC Coach of the Year honors a combined six times.
Accepting the role of commissioner won't be Barnes' first stint with the GCAC. She was recently named interim commissioner for the GCAC of the NAIA, in addition to serving as president of the GCAC from 2009 to 2018, directing its growth after several universities departed for other conferences. "Kiki has stepped in time and time again to lead GCAC when asked to. It is only fitting to have her fully take over the conference and build it into a national model for NAIA. We are getting an experienced AD who has national prominence in athletics. She will be able to take lessons learned at Dillard and help many schools build their athletic programs," said President Walter Kimbrough.
Barnes' tenure at Dillard has been marked by an impressive stream of honors and achievements. Earlier this year, Barnes was featured as part of Sports Illustrated and Empower Onyx's "Elle-vate: 100 Influential Black Women in Sports" series. In 2021, she was selected Nell Jackson Nike Executive of the Year by Women Leaders in College Sports; and in 2019, Barnes was selected as a National Association of College Directors of Athletics Under Armour Athletic Director of the Year. Among Barnes' other honors are GCAC Athletic Director of the Year (2011, 2014, and 2015), one of Gambit's "Top 40 Under 40 New Orleanians Making a Positive Impact on Their Community", and 2018 New Orleans CityBusiness Woman of the Year.
Barnes has been a fierce leader in athletics and a model for success to her colleagues and students at a University that epitomizes the strength and excellence of HBCUs. "It has been an honor to lead the athletics program. We've triumphed on and off the courts—from reinvigorating the sports program following Hurricane Katrina to establishing the University's first endowed athletic scholarship, introducing new sports programs, and developing student-athletes who are equally committed to academics, sports, and service. I am forever grateful to Dr. Kimbrough, my staff, colleagues, student-athletes, alumni, and the community-at-large for trusting me and for serving as strong collaborators for Dillard's athletic programs," Barnes said.
Barnes will finish her tenure with the University through the end of the 2021-2022 spring semester.
Dr. Amber Blair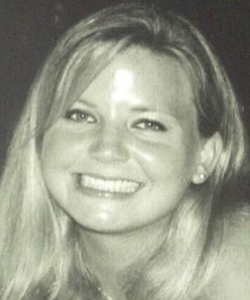 System Awardee
Executive Director of Student Engagement, Equity, and Compliance
Louisiana Community and Technical College System
Full Bio
A South Carolina native, Dr. Amber Blair began her career in higher education in 2002, as a recruiter and admissions counselor at Piedmont Technical College in Greenwood, S.C. She later served as the Director of Academic Advising at Orangeburg-Calhoun Technical College and as Assistant Director of Financial Aid, Assistant to the Dean in the College of Liberal Arts & Social Sciences, and adjunct professor of Sociology, all at Georgia Southern University. She holds a B.A. in History from Furman University, in Greenville, SC, and an M.Ed. Counseling from Georgia Southern University, in Statesboro, Ga., and a Ph.D. in Interdisciplinary Studies: Public Policy and Social Issues from Union Institute & University, in Cincinnati, Ohio. Her research interests include gender and public policy, ethics of care, and motherhood in the American workplace.
Dr. Blair positions service to her students, institutions, and state as her highest professional priority. She received diversity training certification in 2004 from the National Coalition Building Institute (NCBI), and is a member of the Association of Title IX Administrators (ATIXA), for which she now serves on the Diversity, Equity, and Inclusion Committee. Dr. Blair holds 7 National ATIXA certifications. She currently serves on the statewide Power-Based Review Panel, and, most recently, she became a founding member of a national consortium of System-level Title IX compliance officers, along with the California State University System, the University of California System, the University of Texas System, and the University of Wisconsin System.
In her position as Executive Director of Student Compliance, Equity, and Governance, Dr. Blair provides oversight and leadership to our 12 member colleges regarding Title IX and Power-Based Violence laws, policies, and processes. She provides robust awareness and training for 125 Title IX team members across the state.
Dr. Blair is the proud wife of Chris Blair and doting mother to their two children, Crafton, and Rivers.
Dr. Jane Cassidy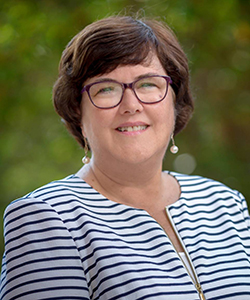 System Awardee
Interim Vice President for Civil Rights & Title IX
Louisiana State University
Full Bio
Jane Cassidy currently serves as Interim Vice President for the Office of Civil Rights & Title IX. This office reports to the President and includes oversight of Title IX, ADA & Section 504, Civil Rights, and the Clery Act reporting. She is responsible for managing processes, policies, and training on matters related to discrimination against protected classes.
Prior to this role, she served for 12 years as Senior Vice Provost in the Office of Academic Affairs where she advised the Executive Vice President & Provost on faculty matters, space allocation, academic policy, and institutional accreditation. The LSU Rural Life Museum, LSU Museum of Art, LSU Press, and The Southern Review reported to her office. Previous administrative roles include Director of the School of Music and Interim Associate Dean of the College of Music and Dramatic Arts.
Dr. Cassidy is a Professor in the School of Music and holds the Roy and Margaret Gianelloni Alumni Professorship. Her field of expertise is music education, and her research interests center around music therapy for premature infants, musical development of infants and children, and Impostor Syndrome. She has been at LSU since 1988.
Dr. Akai C. Smith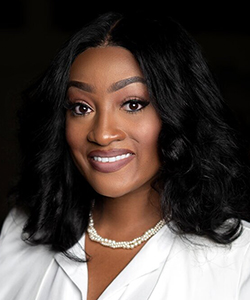 System Awardee
Director of ADA and Title IX Compliance
Southern University System
Full Bio
Dr. Akai C. Smith is a native of Memphis, Tenn., that migrated to Louisiana where she received a bachelor's degree in psychology and a master's degree in mental health counseling from Southern University and A&M College. She also received Ph.D. in educational leadership and research from Louisiana State University and A&M College. Dr. Smith has been employed with Southern University for almost 10 years where she has served in several leadership capacities and in the area of Title IX for five of those years.
She has since earned a certification in diversity, equity, and inclusion from the University of South Florida and is now a certified DE&I Officer and Title IX Administrator for higher education. Dr. Smith continues her service to the Baton Rouge community as an advisor to serval student organizations, which she considers an honor. Her goal of service is to continue to educate and empower young people for years to come.
Dr. Erica Calais
System Awardee
VP for Student Services, Safety, and Resilience
University of Louisiana System
Full Bio
Dr. Erica Calais serves as the Vice President for Student Services, Safety, and Resilience at the University of Louisiana System. The majority of Dr. Calais's career achievements have been in higher education administration. Before working at the University of Louisiana System, she held positions at Baton Rouge Community College and Louisiana State University.
In her current role, Dr. Calais works collaboratively with the University of Louisiana System student affairs units to improve the quality, effectiveness, and efficiency of student services.
Dr. Calais holds a bachelor's in family, child, and consumer science; a master's in business administration, and recently earned a PhD in adult learning and development from Northwestern State University in May 2022.