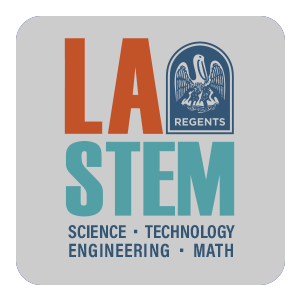 During the 2017 legislative session, the legislature approved ACT 392 to create the Louisiana Science, Technology, Engineering, and Mathematics (LASTEM) Advisory Council. Under the leadership of the Louisiana Board of Regents, the LASTEM Advisory Council shall:
Create and provide with respect to the Science, Technology, Engineering, and Mathematics Education Fund,

Provide for a science, technology, engineering, and mathematics high school diploma endorsement, and

Provide for related matters.
KEY PROGRAMS   REGIONAL CENTER RFA   ANNUAL LASTEM SUMMIT   CONTACT LaSTEM
Advisory Council Meetings
Regional STEM Center Network
The Louisiana Regional STEM Center Network is a system of STEM leadership entities strategically positioned across Louisiana, similar to the Regional Labor Market Areas (RLMAs) identified by the Louisiana Workforce Commission, whereby communities, parishes, multi-parish regions, and the State can achieve improved access to STEM education, participation, and advancement. This includes closing the opportunity gap for underrepresented and underserved populations to engage in Louisiana's STEM workforce and economy.  Existing and developing STEM activities will often span one or more STEM Regions. Regions will share information, work together, and be interconnected by coordinating resources, which can also provide a gateway to other networks and initiatives. The Regional STEM Networks and Centers are connected with and serve the statewide LASTEM Advisory Council.
Annual Reports
Educator Resources
Student Resources
| | |
| --- | --- |
| Member | Title/Affiliation |
| Dr. Kim Hunter Reed | Commissioner of Higher Education, Louisiana Board of Regents |
| Senator Sharon Hewitt | Author of Act 392, Louisiana State Senate |
| Dr. Clint Coleman | LASTEM and Cybersecurity Program Administrator |
| Dr. Francesca Mellieon-Williams | Associate Professor of Science and Mathematics Education, Southern University and A&M College |
| Larry Carter | President, United Teachers of New Orleans |
| Breigh Rainey Rhodes | Director of Math, Science, and STEM, Louisiana Department of Education |
| Dr. Bianca Deliberto | Louisiana Science Teachers Association Representative |
| Kelly Taylor-White | Secretary of the Louisiana Workforce Commission Representative |
| Dr. Frank Neubrander | Louisiana State University System Representative |
| Brian Davis | Director, LABI Education and Workforce Development Council |
| Dr. Patty Glaser | Louisiana Association of Public Charter Schools Representative |
| Crystal Williams Gordon | Louisiana Association of Educators Representative, East Baton Rouge Public Schools |
| Dr. Jim Henderson | President, University of Louisiana System |
| Representative Vincent "Vinney" St. Blanc | Louisiana House of Representatives |
| Melissa Mann | Secretary of the Department of Economic Development Representative |
| Ronnie Morris | Member, Board of Elementary and Secondary Education (BESE) |
| Dr. Calvin Mackie | Governor Appointee |
| Kaneisha Bailey Akinpelumi | Louisiana Association of Independent Colleges and Universities (LAICU) Representative, Xavier University of Louisiana |
| Christen Timmins | President, Louisiana Association of Teachers of Mathematics (LATM) |
| Dr. Janet Pope | Executive Director, Louisiana School Boards Association |
| Paul J. Helton | Louisiana Economic Development Representative, LED FastStart |
| Scott Stevens | Louisiana Association of Principals Representative, Woodlawn High School |
| Dr. Rachel Vincent-Finley | Associate Dean for Academic Affairs, College of Sciences and Engineering, Southern University and A&M College |
| Dr. William Wainright | President, Southeastern Louisiana University |
| Tina Watts | Community Investor, Boeing Global Engagement |
| Dr. Jaimee McCullen Williams | Governor Appointee |
| Tom Yura | Chief Operating Officer, Cornerstone |
| Jawanda J. Givens | Director, Workforce Investment Council (WIC) |
| Dr. David Lafargue | Executive Director for Workforce Solution, SOWELA Technical Community College |
| Dr. Lindsey Keith-Vincent | Associate Dean of Research, Outreach and Innovation, College of Education, Louisiana Tech University |
| | | | | |
| --- | --- | --- | --- | --- |
| Region | Awarding Institution | Center Name | Center Director | Email |
| Region 1 | Greater New Orleans, Inc. (GNO, Inc.) | | Daphine Barnes | |
| Region 2 | Louisiana State University | | Summer Dann | |
| Region 3 | Fletcher Technical Community College | | Christie Landry | |
| Region 4 | University of Louisiana at Lafayette | | Angela Boxie | |
| Region 5 | Calcasieu Parish School Board | | Mark Arseneault | |
| Region 6 | Northwestern State University | | Jennifer DePriest | |
| Region 7 | Sci-Port Discovery Center | | Dr. Heather Kleiner | |
| Region 8 | Louisiana Tech University | | Cathi Cox-Boniol | |
| Region 9 | Southeastern Louisiana University | | Wendy Conarro | |